Jeopardy Daily Double
I'll take Iowa for 55, Alex
Other than Iowa, who has defeated OSU by 31
Who are the Clemson Tigers
Audience shouts, National Champions!
You're gonna hate Clemson for a long time...
3A State Champions
All-American
Posts: 2695
Joined: Sat Oct 20, 2012 2:54 pm
---
I'm glad you're infatuated with OSU rather than Clemson. You've moved up to a heritage-rich team in the same league as Alabama or Notre Dame. You can go into any large city in the world and watch a big OSU game with like minded fans anytime. Try finding a large group of Clemson fans outside of the Upstate. They don't exist.
The very real war on Christianity is rooted in very real hatred of impotent atheists
: Tacitus, May 20, 2014
All-American
Posts: 8604
Joined: Mon Feb 22, 2010 5:21 pm
---
Know your role, get back in line. The big10 had their chance and could not score. Michigan State fooled the CFP committee once, Ohio State fooled the CFP committee for a second time. The CFP committee were not going to made fools of again.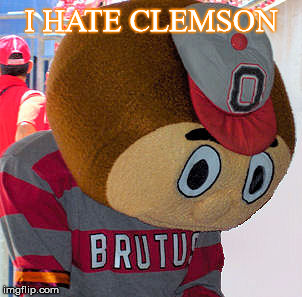 3A State Champions
All-American
Posts: 2695
Joined: Sat Oct 20, 2012 2:54 pm
---
---
Who is online
Users browsing this forum: No registered users and 3 guests